Explore Tulln from a tourist train
The colorful GARTEN TULLN, the idyllic water park, the wonderfully laid-out Danube promenade, the historical main square. TULLI EXPRESS takes its passengers on a hop-on/hop-off tour of several of the most interesting sites in Tulln, the city of art and gardens!
Sights along the way
DIE GARTEN TULLN, water park, Church and Monastery of the Friars Minor, Hundertwasser's ship Regentag, Nibelung fountain, Egon Schiele Museum Tulln, Donaubühne open-air stage, Roman Tower, Tulln City Museum (Roman Museum & Virtulleum), Tullner charnel house, St. Stephen's parish church, district commissioner's office, main square with trinity column.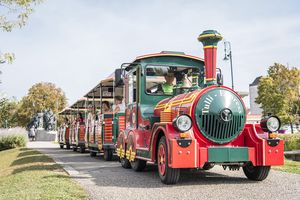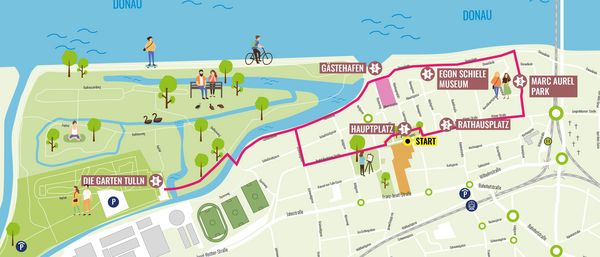 Route: Hauptplatz - Rathausplatz - Marc Aurel-Park/Tulln City Museum - Donaulände/Egon Schiele Museum Tulln - Donaulände/Gästehafen - GARTEN TULLN - Hauptplatz
Travel time: about 25 minutes for the full route
Travel times in the summer months:
MAY-SEPTEMBER
Saturday, Sunday, holidays 2–6 p.m. (weather permitting only)
You can obtain information on additional special trips on-site (Tourismus-Info Tulln, Minoritenplatz 2)
TICKETS
Individual ride*: € 1.80
Day pass (hop-on/hop-off)**: € 3.00
Can be bought at every stop from the TULLI driver
* Validity ends on leaving the train
** Not transferrable
TULLI EXPRESS is available for rent - for your event, your trip, ....
Information:
Christian Holzschuh
Tullner Sport- und Freizeitbetriebe & Veranstaltungsmanagement
P: +43 2272 690-330
Online-Booking
Capacity:
54 adults or 72 children