Egon Schiele Museum – The private side of Egon Schiele
The former municipal prison on Donaulände in Tulln is the ideal starting point for a journey to explore this city's most famous son. The Egon Schiele Museum Tulln is devoted not just to Egon Schiele the person but also to the places central to his life and art. A separate treasure chamber uses original works to illuminate annually changing topics related to the artist's life.
With the most modern museum technology, six stations in his work as an artist are brought to life in reenacted audio-visual interviews with contemporaries.
Schiele for all Generations
Visitors enjoy barrier-free access to the Egon Schiele Museum Tulln. Besides the multi-visual tour, the museum offers guided tours, creative programs and events for all age groups on a regular basis.
Learning from Schiele
The Egon Schiele Museum offers age-specific educational programs with playful approaches to art and one's own creative works along with dialog-based guided tours.
For further information, please click here.
READING ABOUT SCHIELE
A comprehensive book with the same title as the exhibition delves into Schiele's early years, combining the latest biographical findings on the artist with an analysis and depiction of his most important works. "Egon Schiele – Der Anfang" was published by Herder-Verlag in 2013.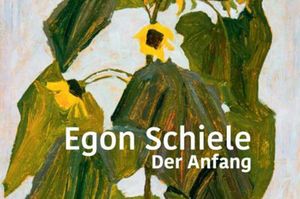 It is available at the Schiele Museum for € 29 (instead of the regular price of € 34.90). For further information and details on the life and work of Egon Schiele: Homepage Egon Schiele Museum