Bicycles and water in the region
Every season augurs its own fun and excitement, whether on a bicycle or at the romantic beach baths along the Danube. Clear views are guaranteed. As is enjoyable recreation. A dense system of bike paths covers this mostly flat countryside. The bike paths follow the Danube, go into cities and through wine-growing regions. Idyllic swimming spots are plentiful in the old-time beach baths directly on the Danube and its old arms.
Pedaling away
You can ride like the wind downstream on the Danube Bike Path. Paths keep forking off to the backcountry, taking you to cellar-lined roads, castles and monasteries, to museums and into local cities.
The free cycling map for the Tulln Danube Region Wagram, Traisen Valley and St. Pölten provides an excellent overview of all bike routes in the region.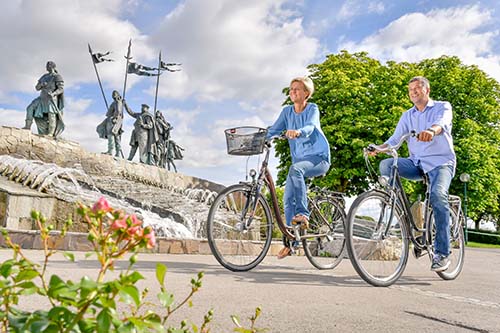 Crossing to the other side
To cross to the other side, you can take a ride on one of the last cable ferries on the Danube. It travels back and forth between Korneuburg and Klosterneuburg. Other ways to cross the Danube include the two newly built Danube bridges in Traismauer, in Tulln and at the Danube power stations in Altenwörth and Greifenstein.
Swimming in the Danube
The old arms near the Altenwörth and Greifenstein weirs have invitingly secluded swimming spots for refreshing summer fun. Another favorite meeting place is Aubad Tulln. In the middle of 30 ha of recreational landscape there is a big swimming lake that has an island with water slides plus facilities for ball games. One of the top outdoor baths in Austria is Strombad Kritzendorf near Klosterneuburg, built in the early 20th c. Its red historical swimming huts are witnesses to these earlier times.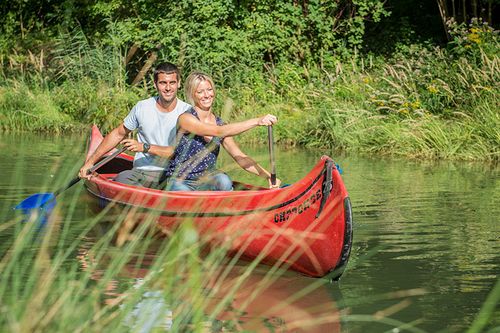 Boating in lowland riparian forest
Canoeing in the Tulln Water Park is another great outdoor activity. There are 5 km of waterways to explore the intertwined bodies of water here on a boat ride. Summer augurs fun and excitement whether you are cycling, on a river cruise or at the old-time beach baths along the Danube.