Experience nature up close with a paddle in your hand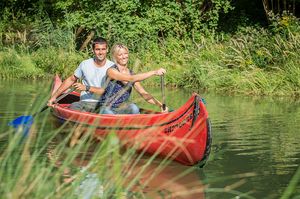 Boating in the revitalized side-arms of the Danube is wonderful. Enjoy an adventure with the kids by exploring the mysteries of the riverside forests around Tulln or drift gently through the tranquil waters with your true love in your arms.
The Waterpark is wonderful for strolling and cycling. You can also take a boat on 5 km of waterways to explore the intricate intertwined bodies of water under the towering riverside trees along with the biodiversity of riverbank and water plants. To make the adventure complete, there is a lush picnic lawn in the middle of the water park where you can treat yourself to some refreshments.
Hours
May – September
May, 14th to May21st, 2023
Saturday, Sunday and holidays 10 a.m. – 7 p.m.
May, 27th to September, 2023
Monday–Friday: 1 p.m. – 7 p.m.
Saturday, Sunday and holidays 10 a.m. – 7 p.m.
Last boats let out at 5:30 p.m.
The tickets can be redeemed directly at the ticket counter of GARTEN TULLN (visitor center).
Group deadlines are also available at other times on prior arrangement. Contact: Christian Holzschuh (Sport- und Freizeitbetriebe der Stadtgemeinde Tulln); P: +43 2272 690 330
Phone Boat rentals (during business hours): +43(0)664/80 690 440
Prices 2023
| Prices | 60 min |
| --- | --- |
| Canoe (max. 4 people) | € 14,- |
| Pedal boat (max. 5 people) | € 16,- |
Every following hour minus 50 % (except team canoes).

Ship ahoy in Aubad Tulln as well
Pedal boats and canoes can also be rented out at Aubad Tulln, for instance by kids eager to play bold pirates and seize the island in the swimming lake! The pedal boat with integrated slide is especially popular with families and kids. Ship ahoy, adventure ahead!