Welcome to Tulln, the Art City
It is the edgy contrasts and surprising consonances that make Tulln a small but quite fine center of art. Consider the revitalized Egon Schiele Museum and "Regentag", Hundertwasser's colorful ship; the Roman Museum so steeped in history and the contemporary exhibition spaces in the Monastery of the Friars Minor.
Idyllic cityscapes, picturesque countryside and provocative portraits. These pictures made Egon Schiele famous. On his 100th birthday, Tulln opened a museum dedicated to its best known favorite son. In June 2013 the city set another monument for the world famous artist. His birthplace at the main train station was converted into an experiential space that whisks visitors away on an exploration of the artist's childhood in Tulln. An Egon Schiele Trail is being planned. It will cover the major stations of his childhood in Tulln.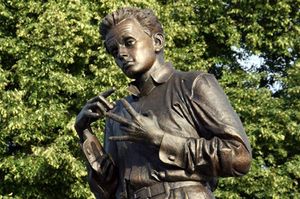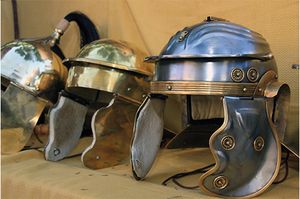 Historical
Today, Tulln visitors are already exploring the vestiges of the ancient Romans. One structure that is especially well-preserved is the Roman Tower, one of the oldest buildings in Austria. Anyone who has visited the Roman Museum comes away with an idea of what military and civilian life might have been like in the Roman cavalry fort of Comagena between 90 and 500 AD.
This Danube city was also a residence of the Babenberg dynasty and a thriving trade center. It was from this time that the art historical gem of the city dates: the Romanesque charnel, built in the 13th c and one of the most significant structures of its kind in Europe. The two 49 m high towers of the St. Stephen's parish church are visible from far and wide. And the imposing Church of the Friars Minor holds many a treasure.
Contemporary
The historical center of Tulln with its burgher houses is an open-air museum in itself. Hauptplatz, the main square, underwent major renovation in 2009. Among its most striking buildings are the district commissioner's office built in Vienna Ringstrasse style in 1891 and a Renaissance building with Venetian crenellations.
The square is lined with shops and outdoor seating for cafes and restaurants. In the very middle is a Baroque trinity column that attests to the piety of the city residents. The fountains of the city also have tales to tell. The ship Regentag takes us out into the big, wide world, at least in thought. Once owned by the painter Friedensreich Hundertwasser, it is now at anchor in the marina behind the Monastery of the Friars Minor and can be toured on prior arrangement.
History
Historic cityguide