20 centuries of Tulln
It was winter in the 1st c AD. Roman troops were stationed along the Danube. Armed cavalry troops patrolled the northern border of the Roman Empire. It was high time to build a defense installation for protection. The ideal site was soon found. Fort Comagena sprung up overnight. And with it came the first foundation walls in Tulln; a city with a history 2,000 years old.
Tulln is one of Austria's oldest cities because of its exposed location on the banks of the Danube. The ancient Romans saw the obvious advantage of this site. Calvary troops stationed at Fort Comagena protected the Noric Limes, controlled the militarily important ford and guarded the fertile Tulln Basin well into the 4th c AD.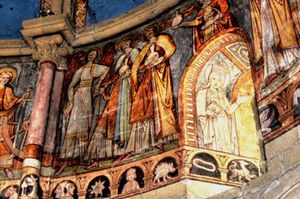 From Late Antiquity on, Comagena was also a base for the Danube fleet. In the final years of Roman rule, word has it that St Severin paid a visit to the city and saved it from the barbarians in a miraculous way.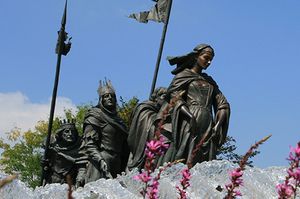 World-shattering
Tulln was already referred to as an urban settlement in 791. In 985/991 the nobles of the young margravate gathered together here, thereby launching what would later become Austria. Tulln was also a venue for the estates assemblies and court hearings.
From the 11th century onward, Tulln returned to center stage in international events. The Babenberg dynasty designated Tulln as their residence. Tulln flourished as a trade center and was even mentioned in the Song of the Nibelung, a famous German epic written around 1200. It extols the meeting that took place in Tulln between Attila the Hun, aka King Etzel, and Kriemhild, the widow of Siegfried. The couple traveled from here to their wedding in Vienna. From the 14th c on, the city was afflicted by Turkish invasions, floods and the Thirty Year's War. The next economic upturn for Tulln did not occur until the 1870s, with the building of a railroad known as Franz-Josefs-Bahn and a bridge over the Danube.
Memorable
Tulln still has many monuments to golden eras in the past. Their preservation can be attributed to the local citizens sense of tradition and civic pride. The residents of Tulln take an active part in new projects but also hang on to the tried and tested. The Hauptplatz is a good example. Following it's makeover, this historical main square and 'living room' of locals is an intriguing mix of the traditional and the modern.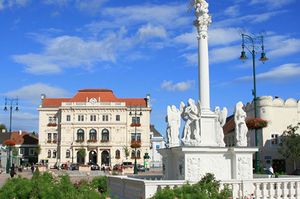 Historical development of the city
Tulln environs inhabited since Neolithic times
| | |
| --- | --- |
| 1st c | Establishment of Roman cavalry fort "Comagenis" |
| 5th c | Fort fell into ruin |
| 9th c | Resettlement, first mention of Tulln: "Tullina", 859 AD |
| 12th/13th c | Danube trade; estates assemblies since 1081; parish founded in 1014; Land judges; city expansion and construction of the town walls; city charter in 1270; Romanesque parish church in 1170; charnel in 1250; Imperial Convent in 1290 |
| 14th c | Fairs, Gothic makeover of parish church |
| From 15th c | Decline to a city of farmer burghers due to the shifting of the trade routes; Turkish threat in 1529; loss in significance due to floods, fires, loss of population and debt. Gathering point for the relief army to save Vienna in 1683. |
| 19th c | Population growth (1800: 1,500 inhabitants; 1900: 4,000 inhabitants); razing of the city walls from 1861 onward and expansion of the city. At the end of this century, local trade and commerce made Tulln the center of the up-and-coming Tulln Basin, which was still dominated by farming. |
| 20th c | Start of industrialization with sugar factory in 1936; first institution of higher learning (gymnasium in 1932). Along with numerous other victims, World War II claimed the lives of 87 civilians in the bombardment on 11 December 1944; also the most massive destruction in the city's history. On 8 April 1945 the Danube bridge was blown up and the city was occupied by the Red Army. Withdrawal of the Russians on 13 June 1955. |
| 1986 | A candidate for becoming the Lower Austrian capital; subsequently assigned a number of provincial governmental functions: agriculture, trade fairs, Red Cross, fire department, civilian and disaster protection. |