In Ancient Roman times...
... Tulln was known as Comagena
It was winter in the 1st c AD. Roman troops were stationed along the Danube. Armed cavalry troops patrolled the northern border of the Roman Empire. It was high time to build a defense installation for protection. The ideal site was soon found. Fort Comagena sprung up overnight. And with it came the first foundation walls in Tulln. A city with a history 2000 years old.
Tulln is one of Austria's oldest cities because of its exposed location on the banks of the Danube. The ancient Romans saw the obvious advantage of this site and founded Fort Comagena.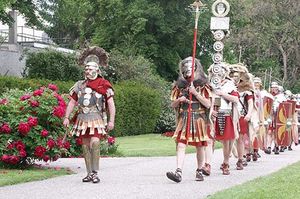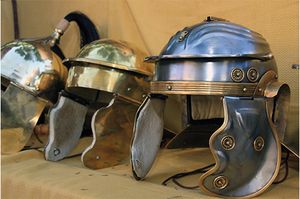 Alvary troops stationed at Fort Comagena protected the Noric Limes and guarded the militarily important ford and fertile Tulln Basin well into the 4th c AD. From Late Antiquity on, Comagena was even a base for the Danube fleet.
The fort extended over an area of around five to six ha and was manned by 1,000 mounted archers, a special unit of the Roman army along with the necessary auxiliary and staff personnel.
A guide to the historical center of Tulln is recommended for anyone interested in finding out more about the long history of Tulln and the silent witnesses to its past that still exist. The guide is available at Tourismus-Info Tulln, Minoritenplatz 2, at a price € 3.50 (to defray printing costs).
Silent witnesses to the ancient Romans
The Roman Tower and the remains of the Roman double gate (porta principalis dextra) are two such silent witnesses from the early days of Tulln. The camp had four gates in all. The site of the western gate has also been determined on the basis of calculations. The northern third of the fort was swept away by the Danube in the Early Middle Ages. There is still a Roman milestone on the road between Tulln and Königstetten. It marked one of the main connecting roads (imperial roads) and indicated the distance to Cetium (St. Pölten).
The city of Tulln has set a monument to its Roman past with the Roman Museum. Visitors can admire myriad small finds from multiple excavation sites in the heart of the city.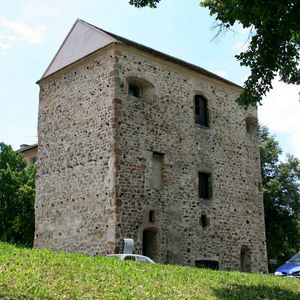 Roman fan tower
In 1989 another portion of the fortification of the Roman camp was uncovered in the courtyard of a public school on Wienerstrasse, namely the gangway connecting the southeastern fan tower of the camp walls with the actual tower.
These excavated walls are nearly 1.80 m wide and 2.60 m high throughout. They also belong to the later construction phase of the Roman fort in Tulln in the second half of the 4th c.
This site can only be viewed on a guided tour.
Sightseeing
Historic Sightseeing