Private boat trip to Tulln
Do you also know Tulln by the water or just from the yearly boat fair? It is definetely worth a trip! Gästehafen Tulln is a marina right in the center of town just a three minute walk from the main square (Hauptplatz). For extended stays, a berth at the marina Yachthafen Tulln is recommended.
How about a spontaneous day-trip in a motorboat from Vienna? Or an idyllic booked cruise starting in the Wachau? Whatever you choose, Tulln has ideal facilities to accommodate your arrival by boat. The landing stage for guests is on Donaulände parallel to the Monastery of the Friars Minor (Minoritenkloster)–in other words, right downtown. From there, visitors can take a stroll along Donaulände with its unique landscaping or through the shady water park (Wasserpark Tulln). The historic center and main square (Hauptplatz) are just a three minute walk away from Gästehafen Tulln and offer a variety of shopping options.
Drop anchor in Tulln and experience art
Tip for art lovers: Gästehafen Tulln is home to Regentag, the ship of the Austrian painter Friedensreich Hundertwasser. Tours are possible if arranged in advance. In addition, the Egon Schiele Museum and the Roman Museum are located directly on Donaulände. Outdoor enthusiasts may want to take a canoe ride through Wasserpark Tulln or explore the many impressive local sights on a bicycle.
At anchor in the marina
If a day-trip to Tulln is not enough for you, it is best if you drop anchor at the marina Yachthafen Tulln. It is not allowed to stay overnight at Gästehafen Tulln. Yachthafen Tulln is the largest yacht harbor along the Austrian Danube and is located at river kilometer marker 1962/2 and 1962/5 on the right-hand bank of the Danube in the middle of a huge and inviting recreational area surrounding Aubad Tulln. Club membership is not mandatory.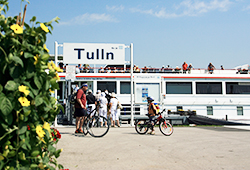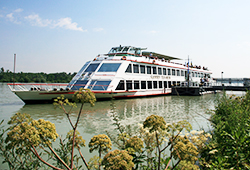 Features of Yachthafen Tulln:
Jetties for guests
Power and water hookups
Filling station
Crane and slipway
Showers and toilettes
Buffet
Contact:
Tullner Yachthafen
Donaulände, A-3430 Tulln
P: +43 (0)2272 62656 or
+43 (0)2272 62403