Waterskiing: riding the Danube waves
Not many cities can claim that they are located on the second biggest river in the EU. It is up to Tulln to make use of this advantage, for instance, with waterskiing lessons on the waves of the mighty Danube!
No one is born a champ. That is why beginning water skiers start very slowly first on a bar next to the boat. As soon as they become more confident on skis, they switch to a rope. The pros from the Tulln Waterskiing Club are on hand to provide tips and tricks, so novices are elegantly gliding over the Danube in no time at all.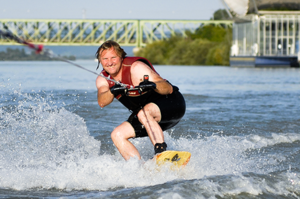 A few practice rides later and they can give mono-skiing a try or wakeboarding—and after a few more practice rides, a host of new objectives open up: slalom course, waterski jumps, trick skiing, and much, much more!