Tulln recreational park: from bmx track to trampoline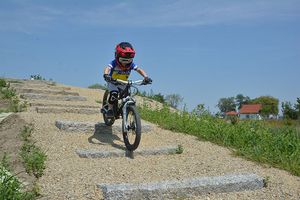 Enjoying leisure time
Sports and action enthusiasts will find a recreational Eldorado right along Donaulände in Tulln between the indoor pool, ice-skating rink and Aubad Tulln. The recreational park on Karl-Metz-Gasse has options for countless activities.
Acrobats on two and four wheels can romp to their heart's content at the skate park and the bike park. For a lower-key activity, visitors can putt at the mini-golf course. And that's not all–the recreational park on Donaulände has loads of space for children and teens to practice and exercise.
Skating and biking outdoors
Up the ramp, a surge of adrenalin, takeoff and a great landing – the trick succeeded! Outdoor sports action and fun is the main focal point at the skate park. Whether you are a novice or a pro, the skate park has everything a skater could want, including mini-ramps, halfpipe and much more.
The bike park contains elements such as a jump line, pump track and various courses for different levels of difficulty.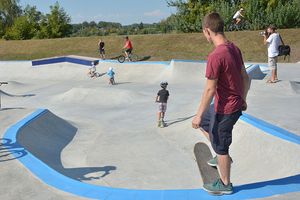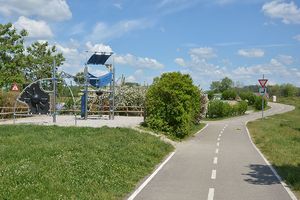 Traffic practice course for kids
How do I show my kids correct behavior in street traffic without subjecting them to danger? At the traffic practice course in Tulln, of course! The recreational park features a course where kids can learn how to walk and ride bikes independently in street traffic.
The course is set up for practicing the widest variety of situations, e.g. also in a roundabout. Learning by playing: kids can learn proper behavior for even the most difficult traffic situations.
Playground, table tennis and chill-out space
The recreational park also has a fully equipped playground, two fixed table tennis tables, modern seating and chill-out areas. Kids will have loads of fun climbing on the inventive jungle gym.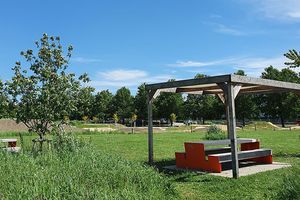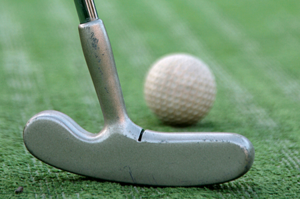 Minigolf and padel tennis
Swing, hit and hole-in-one! A game of mini-golf is always fun for the entire family and with friends. There are 18 fairways that meet international tournament standards. If that is not enough, there is also a large trampoline area.
Minigolf is not enough action? You can find 3 courts for padel tennis in a section of the campground adjoining the recreational park.
Contact & address:
Minigolfplatz Tulln
Karl-Metz-Gasse 2
3430 Tulln / Donau
P: 0664/73783597
or 0664/4079017