Blossoming gardens, beautiful nature landscapes, the historical main square, excellent gastronomy and much more besides make Tulln an attractive trip destination. A wide range of offers for unforgettable club or company trips, seminars or group stays.
Those interested in art have Egon Schiele at first hand, while gardening enthusiasts can visit the park GARTEN TULLN to gather blossoming ideas for home.Tulln also has a lot to offer in terms of gastronomy - from haute cuisine to rustic inn culture.Many vintners and cosy wine taverns in the neighbouring regions Wagram and Tullnerfeld also offer informative and entertaining wine tastings. Those who enjoy exercise can paddle through the Danube wetlands or hike through the vineyards.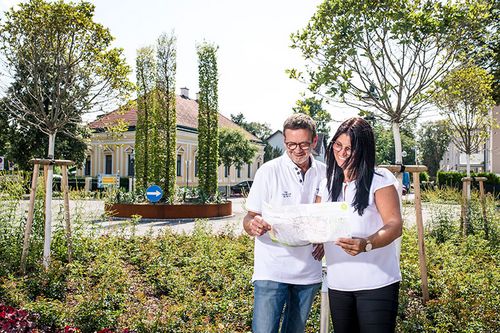 Our tourist information office would be happy to help as a "holiday and trip planner" (phone +43(0)2272 67566-0 or email tullner-donauraum@donau.com) with the planning, booking and organisation of your group stay and can put together a customised programme for your group. Sit back and look forward to an unforgettable stay in Tulln by the Danube.
Frequently asked questions by our guest groups:
Where can the bus stop and park?
For getting off the bus safely and near the centre, we recommend stopping at the Nibelungen car park (next to the town hall/Minorites monastery). The tourist information office is right next to it and the main square is only about 100 meters away. The buses can be parked in Hafenstraße - a supermarket, a petrol station and some snack shops are located nearby. There are also bus parking spaces at the exhibition car park, which are not available during the exhibitions. It should be noted that a ban on vehicles over 16 to maximum permissible gross weight applies on the old Danube bridge.
Where are there public toilets in Tulln?
The WCs are at the Donaulände diagonally opposite the open-air stage Donaubühne and on the main square by the stairs down to the underground garage.
Where can I get a town map?
At the Tulln tourist information office (Minoritenplatz 2) you can get a practical tear-off town map with many suggestions for your Tulln visit.
What guided tours of the town do you offer?
Our certified Austria Guides offer traditional guided tours of the town, as well as special guided tours about the core themes of Tulln: "Egon Schiele" and "Roman Tulln". For groups with restricted mobility, the guided tours of the town can also be booked with the convenient leisure train "Tulli Express". With the Tulli Express it is also possible to visit Tulln's exceptional areas of greenery and roundabouts with an exuberant garden design, accompanied by the expertise of the Tulln municipal gardener Mario Jaglarz.
Which restaurants have the capacity for larger groups?
For a restaurant visit together as a larger group, the restaurant "Die Gärtnerei" at the entrance to GARTEN TULLN are especially suitable.