Water park: verdant idyll in the heart of the city
Immerse yourself in nature
Right between the stunning green spaces of GARTEN TULLN and Donaulände, visitors can find nature in yet another idyllic form: the water park right in the heart of Tulln. As an unspoiled, riverside forest it intentionally contrasts with the man-made green oases of the Garden City. It is a Dorado of naturalness and ideal for leaving daily cares behind.
The 12 km of trails in the 450,000 square meters of pristine nature that make up this water park are free to use all year round and are inviting places to walk or cycle. They offer tranquility, fresh air and space galore.
You can also take a boat on 5 km of waterways to explore the intricate intertwined bodies of water along with the biodiversity of riverbank and water flora.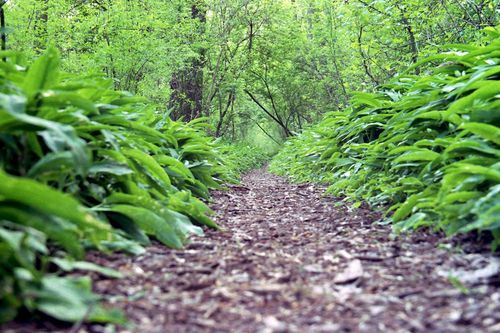 Lowland riparian forest up close
There is hardly another city that is so directly connected with nature. Tulln Water Park extends to the very heart of the Garden City. For a long time, this gem of nature between the fairgrounds and the Grosse Tulln and Danube rivers was hardly used. The wild riverside forest was too impassable. The old arms of the Danube in it had been drained 120 years before when flood control systems were installed.
The city of Tulln then turned to the task of rendering this natural gem accessible to locals and guests while retaining its natural character. In a comprehensive revitalization project, the water park was created to serve as an incomparable recreational area. The revitalized old arms of the Danube are inviting places to encounter this natural wilderness, as are the appealing system of trails, also usable by people with limited mobility.
Revitalization – a project in naturalness
The old arms of the Danube in the area of today's water park were full of life and biodiversity 120 years ago when they were drained. In a revitalization project, the old arms were deepened again and filled with water from the Danube. The available tow paths were widened and surfaced.
The ecological revitalization project was based on a study that Tulln had commissioned the university professor Bernd Lötsch and the Natural History Museum to do in 1998. The implementation proposal incorporated the ecological landscape conditions and site situation as well as the vegetation that was in place. With his suggestions, the ecologist sought to revitalize the old arms, which had been partially silted up and filled in. As a result, there was an increase in resettlement by a wide variety of animal species, especially water birds, and threatened riverbank and water plants resettled naturally within only a few vegetation periods.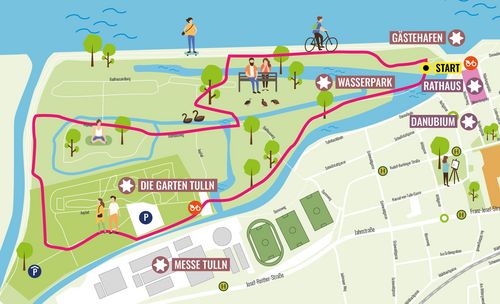 Through the water park in 5,000 steps
Walking is healthy for human beings and the environment. And yet we walk less and less to get from one place to another. If this lack of exercise becomes habitual, people can harm both body and mind. If we would walk more, our lives would be better. It is as simple as that!
Tulln has set up a special trail ("Tut gut"-Schritteweg = "Do-Yourself-a-Favor" Step Trail) around GARTEN TULLN to give people an easy way to increase the number of steps they take. It is suitable for almost anyone. The 3.5 km long route is easy to walk and a person needs somewhat more than 5,000 steps to cover it.
The circular route starts at Seerosenbrücke, a bridge on Donaulände, and passes through the water park around the perimeter of GARTEN TULLN. The route is marked with directional arrows. The trail is smooth enough for baby carriages and strollers. Even athletically untrained people will have no trouble walking it and they largely stay in the shade. The surface is mostly asphalt and in some places gravel.