Recreational fun in harmony with nature
Aubad Tulln makes for the perfect recreational oasis with its combination of close proximity to the city and a natural green setting.

So refreshing!
With its two water slides and a swimming octopus, Aubad Tulln is a true Eldorado for water lovers and playground adventurers. The sand beach and playing stream ensure a fun swimming outing with the kids.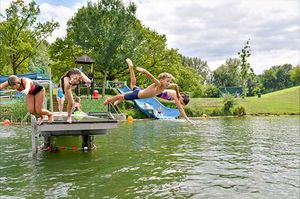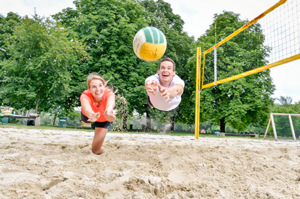 Play Away
The 30 hectares of the Aubad offers the perfect getaway for sun worshippers, athletes and nature lovers, including volleyball courts and soccer fields as well as scenic paths for walking and jogging.
So relaxing
Aubad Tulln is well frequented in the summer. Visitors who come in the morning share the lake with only a handful of early risers . The free recreational park has quiet spots and romantic safe havens even during high season. And if you come in the winter you can enjoy the sledding hill.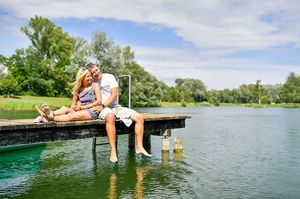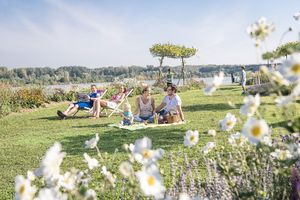 So down-to-earth: grilling at Aubad
Have an idyllic outdoor grilling party in the evening, sitting around a fire on tree trunks – Aubad Tulln has several grilling spots for doing just that! Prices are available on request.
Contact:
Rathaus Tulln
Minoritenplatz 1
P: +43 2272/690-111
Hours
May – June
Mo – Fr: 10 a.m. – 6 p.m.
Sa, Su, holidays: 9 a.m. – 6 p.m.
July-August
Daily: 8 a.m. – 8 p.m.

Address/contact:
Donaulände 78
A-3430 Tulln/Donau
Austria
Call: +43 2272/68667 (during business hours)
sport@tulln.at
News
Discounted season passes available at the ticket counter at DonauSplash, a sports and family swimming facility, and starting in May also at the Aubad ticket counter
Offers
Free WLAN
In the western part of Aubad it's free to use the World Wide Web.
2 Waterslides
Playground
Beach for the little ones
Adventure & Play Creek
Toddler Ship "Arche Noah"
Swimming Octopus
Rent A Boat (Pedalo/Kanoe)
Rent a stand up paddle boards
Grounds for ball games
Beach-Volleyball grounds
Beach-Handball ground
Basketball ground
Table tennis
Boule
Rent a deckchair
Buffet
Safe
Benches
Steps
Toilet and Shower
Suggestion
The Rodelberg in Aubad is in Winter a favourite spot for Tulln's people.
Admission prices for 2023
| | | | |
| --- | --- | --- | --- |
| | Regular | Discounted* | Pupils 6-14 years |
| Day pass | € 6,70 | € 5,30 | € 3,20 |
| Evening pass from 4 p.m. | € 3,70 | € 3,00 | € 1,80 |
| Season pass from June 1st | € 70,00 | € 56,00 | € 35,00 |
| discounted season pass from May 1st - May 31st | € 56,00 | € 46,00 | € 28,00 |
| discounted season pass until April 30th | € 35,00 | € 29,00 | € 18,00 |
| 1 adult with max. of 4 kids (up to age 15), day pass | € 10,00 | | |
| 1 adult with max. of 4 kids (up to age 15), evning pass | € 5,00 | | |
| 2 adults with max. of 4 kids (up to age 15), day pass | € 15,00 | | |
| 2 adults with max. of 4 kids (up to age 15), evening pass | € 8,50 | | |
| Groups of 10 or more** per person | € 6,00 | € 4,80 | € 3,00 |
| Tulln Ticket | € 6,00 | € 4,80 | € 3,00 |
* Discounted: Teenager (up to age 18), students and apprentices (up to age 26), military conscripts, seniors (from 60 years), handicapped
**Groups of 10 and more: only with joint admission