Unique: the charnel house in Tulln
Romanesque architecture
The charnel located directly behind St. Stephen's Parish Church is undoubtedly a gem of Late Romanesque architecture and peerless throughout Europe. This view is confirmed by art historians.
The building was erected around 1240/1250, probably by order of Babenberg Duke Friedrich II. It was put up by a Norman mason's guild, which had previously been active in Jak in western Hungary. That town has a nearly identical funnel-like portal.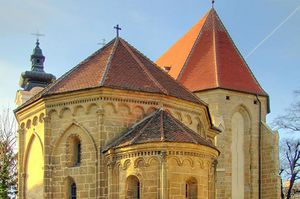 Ossuary and chapel
The lower story of the charnel served until 1785 as an ossuary for the exhumed skeletons of the deceased from the graveyard that still surrounded the parish church at the time. The upper story of the charnel was actually a funeral chapel accessed over a perron restored in the quarter arch. The main entrance to the charnel is a gem in itself. This magnificent funnel-like Romanesque portal literally draws visitors into the interior and into ages long past.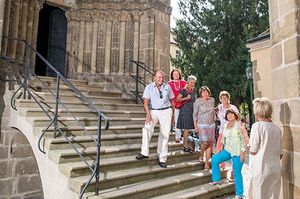 Uniquely 11-sided
The eleven-sided floor plan of the charnel is evidently modeled on a sacred structure in Jerusalem. The eastern apse is oriented to the light of the rising sun and shows Christ Pantocrator (Christ as almighty ruler), Archangel Michael as dragon slayer and figures of the saints in medieval depictions.
Visit
during city tours - dates, further information and registration at Tourismus-Info Tulln
through prior arrangement with the parish office of St. Stephen's call +43 (0)2272/62338. Opening hours parish office St. Stephen's: Mon 9-10 a.m. & Thu 3-4 p.m.