With a fishing pole in hand...
... Experience nature close up. Leisure time does not always have to be loud and action-packed. Fishing in the fresh air is one of the best outdoor recreational activities of all, offering tranquility and a deep connection with nature. As a city on the Danube, Tulln is naturally rich in fish-filled waters and promises anglers a good catch!
For example, fishing can be done on both banks of the Danube, in the two ponds Karnerteich and Brückenteich as well as in the river Grosse Tulln. All that is required is a valid fishing license (Fischerkarte) and a one-day, monthly or annual pass.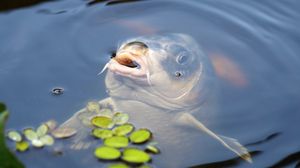 One-day and monthly passes:
Trafik Pfiel (a tobacco store at Wilhelmstr 30, P: 02272 65575; also open Sunday morning)
One-day passes also available from:
Angelsport Fishing Tackle Langenrohr (a fishing equipment store at Tullner Strasse 23, A-3442 Langenrohr, Austria. P: 02272 72315)
Annual passes:
Robert Pauser (Rudolf-Buchinger-Str. 14, A-3430 Tulln. P: 0664 323 07 32)
The one-day pass is good for both banks of the Danube plus the two ponds Karnerteich and Brückenteich and the river Grosse Tulln. The annual pass covers the entire fishing grounds on the map (Revierplan).
Sightseeing Tour in Fischereirevier Donau I/1
Sightseeing Tour always available, call Mag. Peter Oppeker, P: 0699 113 53 035.