Church of the Friars Minor
Church of the Friars Minor – Late Baroque gem
The Church of the Friars Minor was completed in 1739 and renovated in 1990. It is among the loveliest Late Baroque churches in Austria. The impressive ancillary spaces of the church transport visitors to days long past. They have remained unchanged to the present as an ensemble comprising the Loreto chapel, sacristy, crypt, and hermitage. The church is dedicated to the Virgin Mary and Saint John of Nepomuk.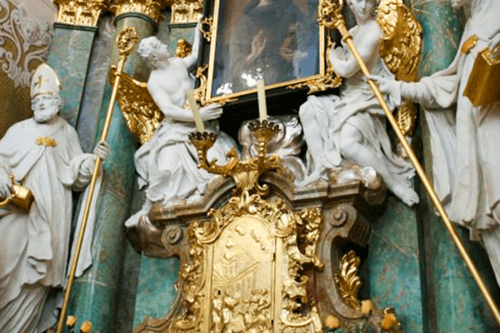 Subterranean mysteries
The Church of the Friars Minor has so many intriguing nooks and crannies steeped in history. The best way to explore them is on a tour through the ancient pile. To name just one mysterious detail: The hermitage consists of four underground rooms whose exact use has not passed down. But one feature is distinctly recognizable: The walls of the two larger cells are plastered with cinders and shells and decorated with large plaster crosses colored white.
Tours
Daily from about 8:00 a.m.–5:00 p.m., tours on prior arrangement and as part of historical city tours.
Address:
Minoritenplatz 1, 3430 Tulln, Austria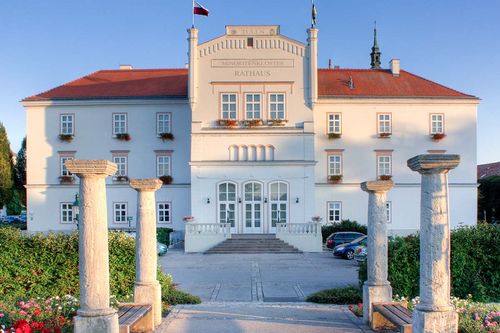 Monastery of the Friars Minor
The Friars Minor are a mendicant order (also known simply as "Franciscans") and settled in the northeast corner of the then rich city on the Danube back in the 13th c. The only element of their earlier monastery left is a Gothic chapel, which can be seen in the documentation "Tulln unter der Erde" (subterranean Tulln).
Resettled in the 17th c
The monastery was then abandoned during the Reformation and not re-inhabited again until 1635. It was rebuilt from 1713 to 1756 in Late Gothic style. In 1807 the Monastery of the Friars Minor was shut down and in 1827 the building became a school for the imperial corps of engineers. Then the building was modified in 1858 and turned into barracks, making Tulln a garrison city.
From residential space to work space
In the 20th c, the former monastery provided space for social housing; from 1990 to 1993 it was extensively renovated. Today it contains the Tulln city hall, the sugar museum and special event spaces. It can be toured only as part of special events.