Unique: the Roman Tower in Tulln
The Roman Tower (also formerly known as the Salt Tower) is a projecting horseshoe-shaped tower flanking the Roman cavalry fort Comagena in Tulln to protect the western wall of the camp, which dates from about 300 AD. It therefore belongs to the stone additions to the fort dating to Late Antiquity. In the Middle Ages, the tower helped to protect the landing stage along the Danube.
Later it became a municipal armory and was used as a salt warehouse (hence "Salt Tower" in local parlance). From 1929 to 1967 it was a worship space for the local Protestant parish and today it is the club house of the student fraternity Comagena.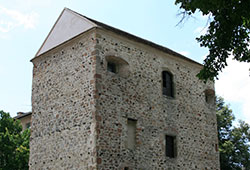 Original all the way to the roof
The tower was renovated in 1984. In the process, it was determined that the Roman walls had been preserved all the way up to roof level. It is therefore one of the few fully preserved ancient structures north of the Alps and one of the oldest buildings in Austria. The interior is not open to the public.
Porta Principalis Dextra
If you travel 2,000 years back in history, you can enter the Roman cavalry fort Comagena through the Porta principalis dextra. The remnants of the eastern double gate of the camp are silent witnesses to the Roman Empire in Tulln and can be visited daily. The complex was protected by two gates and two towers. Besides the foundations, one keystone from the arch has been preserved, as has the middle pad stone for both arches.
The building was built out of sandstone from the Vienna Woods. The stones were smoothed beforehand and then laid in layers with Roman mortar (sand, water, lime) in-between to form the wall. Then they were rendered.
Roman museum
Info Danube Limes
Sightseeing
Historic Sightseeing