Monument to the Nibelungs
Steeped in history: the Nibelungs
The Monument to the Nibelungs or Nibelung Fountain is dedicated to a scene from the great medieval German epos: the meeting of Kriemhild, Queen of Burgundy, and Etzel, King of the Huns, in Tulln. It is depicted in a set of bronze sculptures by sculpture Michail Nogin.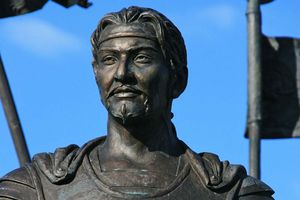 Orient meets Occident
The reception of Kriemhild as bride by Etzel her soon-to-be husband in Tulln was peaceful and festive. Today it is considered symbolic of the cultural encounter between Occident and Orient, between West and East. The Nibelung Fountain is therefore a memorial at one of the historical venues of the Lay of the Nibelung and documents Tulln's past, so steeped in history, and the bonds between the individual regions along the Danube.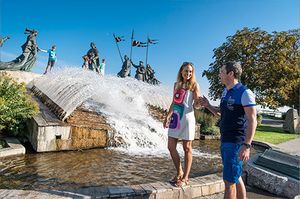 Water-Art
The Nibelung Fountain is truly a sight to behold on summer nights. An integrated and esthetic light-water-stone composition of the fountain sculptor Hans Muhr lends the artwork even more depth: the fountains of water rise out of an open book – Lay of the Nibelung. The fountains alternately become stronger on each side until their streams of water finally touch and mix – this feature also corresponds to the symbolism of two worlds, East and West, approaching each other in Tulln.
Downloads
Would you like to know more? Here wou will find a variety of brochures in English.
Are you interested in getting to know the most important sights of Tulln? Then we recommend a guided city tour.